This page provides information for a recent Singles Volunteers event.
To view a list of all upcoming events for the next two months go to the Events page.
If you are not yet a member of SVCalgary please go to the Sign Up page if you want to sign up for an upcoming event.
***
Canmore Dinner (May28)
DESCRIPTION: On Monday May 28, seven members of Single Volunteers Calgary made an unofficial visit to a dinner put on by the "Singles Crowd", a Canmore singles group. The previous Saturday May 26, two of the executives of the "Singles Crowd" came to the SVC dinner at Bookers.
The "Singles Crowd " reserved a small restaurant, and about twenty five members attended. Seating was determined by a draw, and halfway through, the tables were mixed again, by draw. This seemed to work very well.
They have added June 3rd's hike to their calendar, and also the June 8 social, Tony and Tina's wedding. We hope that a close relationship will develop with our sister Canmore singles organization.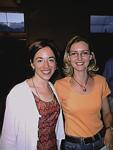 The two club founders, Adele and Noortja.